Never Pay Full Price Again!
Our Mobile Store To Your Front Door®

My Way Carpet's Mobile Store Comes To You With
Over 4000 Styles & Color Combonations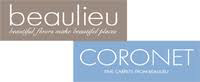 Coronet Carpet, a Beaulieu of America company, is one of the leading flooring manufacturers in the U.S. In fact, they are one of the three largest carpet manufacturers in the world. Coronet products are known for their signature style, innovative designs, vast color selections, and advanced dyeing technology.
Coronet Carpet sets America's standard for quality and integrity. With exceptional craftsmanship and consistency in producing fashionable carpet at affordable prices, Coronet Carpet is a force to be reckoned with.
Coronet has pioneered significant advances in the flooring industry, such as its revolutionary dye technology. Coronet's olefin berbers are the only berber with solution dyed nylon. The skilled craftsmen at Coronet tuft these extraordinary floor fabrics using premium fibers and stain protection from the world's most respected producers.
Coronet Carpet offers an extensive selection of carpet styles—cut piles, berbers, friezes and loops crafted of nylon, polypropylene, and P.E.T. polyester yarns. Their product lines include Coronet Classics, Berber Fashions, commercial carpet for home or office, indoor/outdoor carpet and turf. When combined with primary stain protection products such as Stainmaster(TM) or Scotchgard(TM), as well as performance enhancers including DuraWear(TM) and CrushResister(TM), Coronet Carpet is unparalleled in style and functionality.
Coronet Carpet is proud to bring experience, integrity and quality to residential and commercial consumers.
Our Clients and As Seen In:



Anso
Armstrong
Bruce
Beaulieu
Congoleum
Coronet
Formica
FERMA
Hagamen
Kraus
Mannington
Miliken
Mirage
Mohawk
Quick Step
Repellawood
Shaw
Smart Strand
StainMaster
Wear Dated
Zickgraf
All of New Jersey:
Bergen County,
Burlington County,
Essex County,
Hudson County,
Hunterdon County,
Mercer County,
Middlesex County,
Monmouth County,
Morris County,
Ocean County,
Passaic County,
Salem County,
Somerset County,
Sussex County,
Union County,
Warren County
All of Staten Island
Richmond County
In Pennsylvania:
Easton Area
Please Refer Us To Your Friends And Family!!
Use of this website signifies your agreement to our Terms of Service
and Privacy Policy © Copyright 2014 MyWayCarpet.com®
All rights reserved.