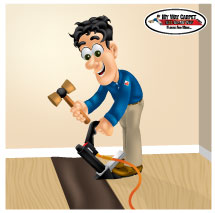 My Way Carpet Floors and More specializes in quality hardwood flooring products and services including breathtaking hardwood flooring, custom hardwood staircases, and the restoration of existing hardwood flooring to their original beauty. Our installers take great pride in their work, ensuring our customers the highest level of craftsmanship in the business. Our attention to detail and commitment to excellence will satisfy even the most discerning buyers.
The advantages of hardwood flooring are numerous. Let My Way Carpet Floors and More's courteous and knowledgeable staff introduce you to the five "E's" of hardwood:
E Elegant
E Easy to clean
E Enduring
E Eco-Friendly
E Excellent for resale
Hardwood floors are both durable and they are made from a renewable resource-making them eco-friendly, as well as aesthetically pleasing. And, did you know that hardwood floors are good for your health? In fact, many doctors recommend hardwood floors for patients suffering from allergies and other respiratory afflictions. According to the Asthma and Allergy Foundation of America, "Hardwood floors are an ideal type of floor for persons with allergies and asthma."
Call us today at 1-877-466-9929 to schedule a "Mobile Store to Your Front Door" appointment to learn more about how My Way Carpet Floors and More can help you beautify your living space with a wide selection of hardwood flooring products and services.