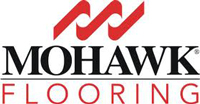 Mohawk Industries manufactures floor coverings and textiles for every room in the home and for all commercial applications. Mohawk Industries is one of the largest floor covering manufacturers and distributors in the world with offerings including hardwood flooring, laminate flooring, ceramic tile flooring, stone and marble flooring and, via an exclusive distribution agreement with Congoleum, vinyl sheet flooring.
The Mohawk family of brands includes some of the most recognizable and respected names in the industry: Aladdin, Alexander Smith, American Olean, American Rug Craftsmen, American Weavers, Bigelow, Dal-Tile, Galaxy, Harbinger, Helios, Horizon, Image, Karastan, Lees Carpet, World, WundaWeave, Custom Weave, Mohawk, and Mohawk Home.
In addition to quality consciousness, the Mohawk Flooring portfolio is sustainability conscious and filled with products that contain recycled materials or originate from renewable resources. Mohawk is dedicated to helping create more beautiful homes and commercial workplaces, while reducing their impact on the environment.
Commercial customers pursuing Leadership in Energy and Environmental Design (LEED) certification from the U.S. Green Building Council will find the tools they need through Mohawk Flooring to finish their projects quickly, efficiently, and sustainably.
And, all consumers can easily find products with the green attributes they seek. Mohawk Flooring products are independently verified by third-party auditors so that consumers can be confident they are receiving the value for which they are paying. Mohawk Industries intentionally seeks out meaningful, transparent, independent assurance through a variety of certifying agencies to ensure that many Mohawk products meet the criteria required for installation by well-respected green organizations such as the U.S. Green Building Council, the Collaborative High Performance Schools, and the Green Guide for Health Care.
Did you know…
• The fibers in Mohawk's SmartStrand® carpets are made from DuPont™ Sorona®, the key ingredient of which is a rapidly renewable plant-sourced sugar.
• Mohawk buys more than 29 million pounds of recycled crumb rubber each year to create beautiful door mats. That is the equivalent of 1.45 million rubber tires per year!
• The natural wool fiber in Karastan® wool rugs absorbs indoor air contaminants to improve air quality, creaiting healthier living environments.
• Over 1 billion pounds of foam trim has been diverted from landfills and used to create Mohawk carpet cushion since 2005.
• More than 98 percent of Mohawk's ceramic tile products contain post-industrial recycled materials. Of those products, 47 percent also contain post-consumer content
• Many of Mohawk's tile products contain recycled glass. In 2012 alone, one of Mohawk's manufacturing plants recycled nearly 5 million pounds of glass into select tile products.
• Mohawk's laminate is created with as much as 74 percent recycled content and installed with their chemical-free Uniclic® installation system, so that it has no adverse effect on indoor air quality.
• Formulated from all-natural ingredients, Mohawk's floor cleaners are sustainable, biodegradable, pet- and people-safe and have earned recognition as a U.S. Environmental Protection Agency Design for the Environment product.
• Mohawk recycles approximately 3 billion plastic soda bottles each year to manufacture their EverStrand™ carpet and other home products.