Digital Currency For Your New Carpet or Flooring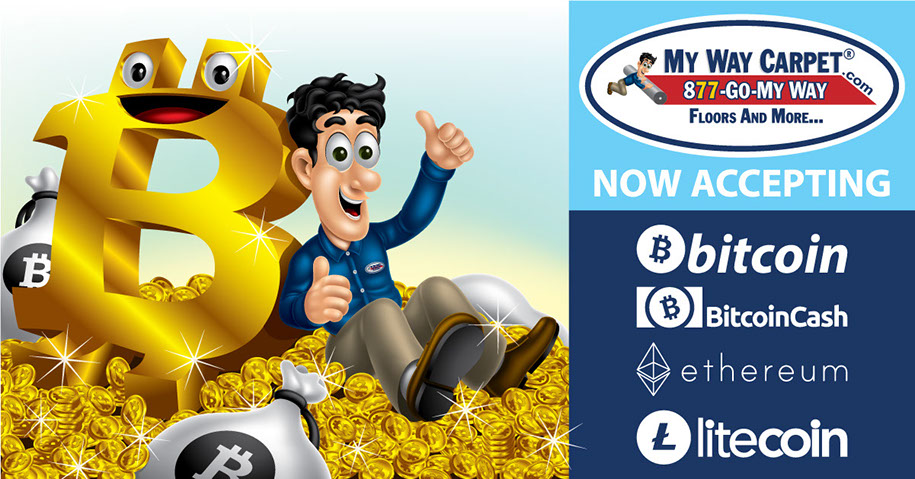 Crypto-Currency For Your New Carpet or Flooring
It is a great pleasure to announce that My Way Carpet is now capable of receiving crypto-currency for payment on invoices. There are no limits on invoice sizes and we are happy to discuss as questions about the process as we understand how new this currency is to our industry.
Accepted Currency Types:
- Bitcoin (BTC)
- KLEVER (KLV)
- Litecoin (LTC)
- Ethereum (ETH)
- Ripple (XRP)
We will add more currencies in the near future.
All transactions require managements approval prior to ordering material or scheduling. For urgent requests please contact our crypto administrator at 908-405-5722.



Please Refer Us To Your Friends And Family!!
Anso
Armstrong
Bruce
Beaulieu
Congoleum
Coronet
Formica
FERMA
Hagamen
Kraus
Mannington
Miliken
Mirage
Mohawk
Quick Step
Repellawood
Shaw
Smart Strand
StainMaster
Wear Dated
Zickgraf
All of New Jersey:
Bergen County,
Burlington County,
Essex County,
Hudson County,
Hunterdon County,
Mercer County,
Middlesex County,
Monmouth County,
Morris County,
Ocean County,
Passaic County,
Salem County,
Somerset County,
Sussex County,
Union County,
Warren County
All of Staten Island
Richmond County
In Pennsylvania:
Easton Area
We need your help to choose the winning jingle!