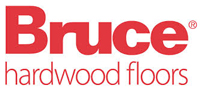 For more than a century, Bruce—an Armstrong company—has provided customers with beautiful, long-lasting hardwood floors and stylish, durable laminate floors. Bruce manufactures superior quality flooring through exacting precision in the milling process.
Demonstrating a tireless commitment to quality assurance, all Bruce manufactured flooring undergoes rigorous inspections featuring up to 75 quality checkpoints. Bruce offers a luxurious selection of design styles, colors, species, and specialty finishes. Nearly all of Bruce's hardwood volume is grown in the United States in the Appalachian Mountain range, where the wood is known for its clear grain, consistent color, and excellent stability. More than 70% of Bruce's wood products are made from premium and select grade hardwood to ensure production with fewer streaks, knots, and flaws.
Bruce is dedicated to craftsmanship and they focus on maximizing quality rather than quantity. Their milling processes produce straighter, flatter boards that fit together precisely with few gaps between boards. Their high tech production lines ensure stain colors are consistent through every cycle and their finishing systems achieve the perfect balance between beauty and durability. Bruce offers hand-scraped floors in rich colors and popular wood species; rustics featuring the look of aged, hand-crafted hardwoods; American exotics in a variety of colors; and traditional hardwood in oak, cherry, walnut, birch, hickory, maple, and ash.
In addition to hardwood, Bruce is a trend-setter in laminate flooring products. Their high-definition imaging and advanced embossing techniques translate into amazingly realistic looks and textures. With Bruce laminate, you can get the look of popular, rare, or exotic hardwoods or natural stones in a floor that is affordable and practical. For premium quality, exceptional durability, and great value, Bruce laminate delivers. All Bruce laminate flooring products contribute to the MR6.0 LEED rating system by containing a high percentage of renewable fiber sources. Bruce's Premium collections contain recycled content and contribute to MR4.0.
Forest Stewardship Council (FSC) certification is available for selected solid and engineered hardwood products. Bruce also offers engineered wood flooring that is certified as low VOC (volatile organic compounds). More than 90% of Bruce's volume is manufactured in the United States using local raw materials, enhancing the sustainability of their natural hardwoods. Bruce is committed to protecting the communities where they extract, process, and manufacture their wood products. Bruce's goal is to support sustainable forest management practices globally, including planting trees to replenish what they harvest.