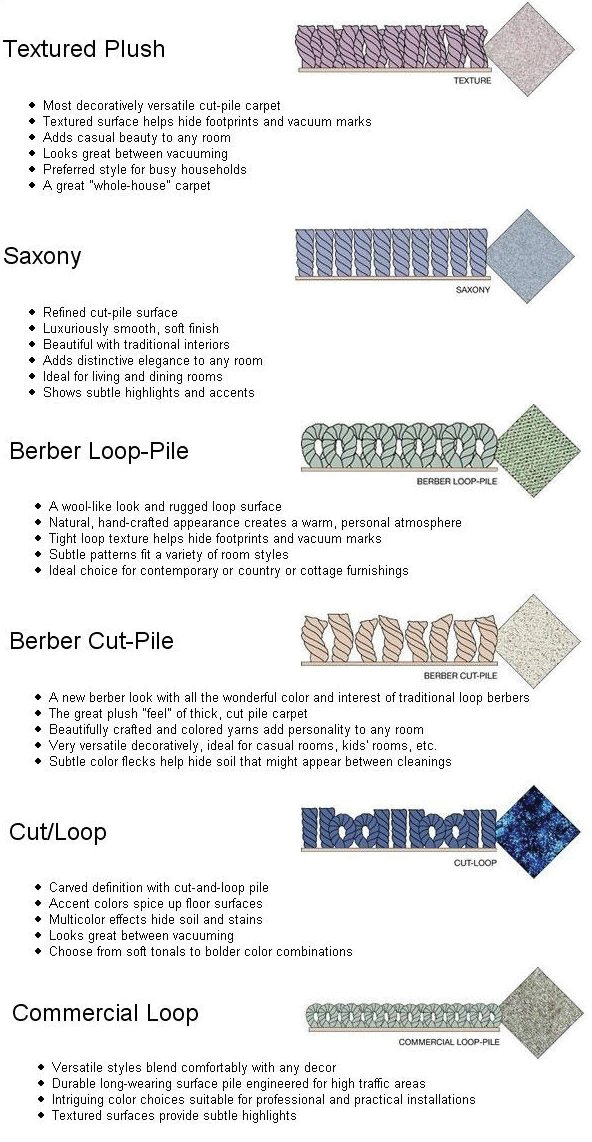 All about the Different Styles of Carpet:
One of the first things that is discernible on entering a home is the carpet that is spread out on the floor. Maintaining carpets can be a really daunting task and that is why it is important to maintain them well and also keep them clean and tidy all the time. Since the function of the carpet apart from its features of keeping cozy and comfortable is that it adds décor to the room and makes the room look beautiful. This can be achieved only with a clean carpet laid out neatly on the floor. There are different types of carpets and each of the types has their own distinct features which make it suitable for different climatic conditions and varied functions. Hot and humid climatic conditions lead to the growth of mold and other organisms which can make the carpet look really dirty and ready to be disposed of. And in windy areas, it is possible for the carpet to be filled with dust and tiny insects that can be dangerous and health hazard for the children of the house as well the pets if any in the house. Moreover, being the item that is most trodden on, the carpets are always prone to wear and tear because of this. That is why it is important to buy carpets that suit the weather conditions, the needs of the family and the floor requirements for its covering.
Different types of carpets are available in the market and some of them are made out of wool, synthetic fibers and other material which are new and modern innovations. It was in the Middle East and the Sub –Continent that carpets used to be woven which had highly intricate designs and bright colors. They not only were used as a covering on the floor, but also enhanced the décor of the room since the carpets were usually colorful. Though the hand-made woven carpets are still in demand, it is the machine made carpets that are cheaper today and since it is possible to include different designs and colors on the machine made variety, they are more in demand by customers as the machine made carpets are cheaper and easily available. There are a variety of different designs and colors to choose from to match the décor of your home in general and the room in particular. Carpets are usually categorized on the basis of their textures, their designs and the materials used in their manufacture.
The different styles of carpets that are available include:
Plush & Texture Carpet: Textured carpets are highly advantageous to be spread out in most homes as they are able to camouflage the footprints and the other marks and scars that are usually found in carpets. Unlike the textured variety, the plush variety is not so effective in hiding these marks and therefore a lot of care and attention need to be given to plush carpets. Plush carpets are great to use in rooms that are classy and must be kept that way. The plush carpets infuse a rich and elegant look to the room, but it should be noted that the room must have very little traffic on it. It is a cut pile variety of carpet and has a soft surface that is satiny and smooth.
Pattern Carpet: These types of carpets have intricate patterns and create their own room décor that is suitable to the room in which it is kept.
Frieze (twisted) Carpet: the frieze or twisted carpet belongs to the cut pile category and is perfect to be spread out in a room that is used in informal settings. The fibers of the carpet look very short and abrupt because of it being twisted very tightly. The frieze cut pile carpets are able to camouflage marks on it as they curl up in different directions if needed.
Berber (loop) carpet: Made up of fibers that include either wool or nylon fibers which are woven into yarn to make a thick surface, the Berber carpets have a construction of a loop and pile combination. The Berber carpets are distinguished by the color combinations that are usually found in them. The small dots of dark color are set against a light colored background. The Berber carpets are only good for low traffic areas as it allows dirt and dust to accumulate easily. In fact, it should be placed in an area which is not near the exterior of the house. The Berber carpets should not be considered as a piece of decorative item as being plain it does not add to décor nor enhance the beauty of it. It is more functional in nature.
Loop: These carpets are more popular than the cut pile variety for use in the high traffic areas. The main reason being its property to camouflage marks of footprints that fall on it. Easy maintenance and durability are some of its other features. Cut and Loop Pile types of carpets are a combination of both the cut type and the loop type and are available in a combination and designs. The third type of loop carpets is the multi-level loop pile which is a type of carpet that has loops in different layers as its name suggests and thereby, creates a design in its looping. Fairly durable, it is best used in low traffic areas.
Commercial Carpet: the commercial carpets are the huge ones that cover the entire floor space of an organization or a large area of commercial property. They are extremely robust and sturdy and are very durable even if there is a high traffic flow on it. It has a number of various other properties like its acoustic features for example. Moreover, it is possible to post information on the carpet like if cordoning off areas becomes necessary.
Carpet Tiles: The use of carpet tiles has become very popular in commercial scenarios and the reason is that today with the advancement of technology, it is possible to create these tiles that look like carpets on the flooring space. Though the manufacturers claim that adhesives are not necessary in installing the tiles, it is best to use a light adhesive to hold the tiles in place. Another essential condition for durability is keeping the tiles in the room for some time for installation. This will allow the tiles to condition itself to the room temperature so there will be no expansion or contraction with changes in temperature which is usually the case. There are many pros and cons attached to the use of the carpet tiles and they include:
Pros:
• Easy to install as the carpet tiles are available in sizes that are handy and can be easily managed by one person.
• Easy maintenance makes it a good option for areas in which there is high traffic like commercial environments. An ordinary wet mop is all it needs to wipe off stains and marks from the tiles.
• Durability is its main feature that adds value to the carpet tiles.
• Patterning possibilities are high as the tiles can be laid out in patterns of your choice.
Cons:
• The carpet tiles are usually available in different textures so they may look disfigured due the variations in textures.
• The edges of the carpet tiles can pose some problems as it starts to chip once the effects of wear and tear become visible.
Usually when selecting a carpet, the size is the most important factor, especially if it is a wall to wall carpeting need. Firstly, any inaccuracy in size can lead to an unsightly looking décor, so size is of prime importance. Secondly, it is the shape that should be in sync with the shape of the room. The variety in shapes and sizes available nowadays makes carpet shopping quite easy as there are plenty to choose from. Moreover, a fully covered flooring of a room ensures that the insulation of the room is intact.
Depending on the kind of area you want to cover, you can buy your carpets like in a long corridor, carpet runners would be the most suitable. Portable rugs are easily placed in places where you plan to squat on the floor for some work. Kitchens and washrooms usually look good with scatter rugs or carpets.
There are many factors that can motivate your decision to buy carpets, but primarily it should be the functional need and the aesthetic quality that must be first considered. Factors like budget, design and textures are also important factors, though it would be useless to buy a carpet that is within your budget but not enough as a floor covering. Buying carpets for the house or for commercial purposes seems easy and simple, but when the time comes it is all dependent on your needs and therein you might get confused. So it is best to make up your mind after due consideration of all the factors and then decide to buy a carpet.