Commercial Sheet Vinyl Flooring


Commercial Sheet Vinyl Flooring
Commercial sheet vinyl flooring is an excellent choice for both retail and public spaces. It is commonly used in high foot traffic areas like bathrooms and break rooms. Commercial sheet vinyl floors are extremely durable if properly installed and maintained. Commercial sheet vinyl floors require regular cleaning and it is recommended that they are professionally cleaned periodically to ensure maximum floor life.
The cost of commercial sheet vinyl flooring averages $1.50 - $2.50 for standard sheet vinyl and $2.75 - $5.00 for luxury and safety sheet vinyl flooring. Commercial sheet vinyl flooring is available in Heterogeneous, Homogeneous, and Inlaid.
Homogeneous Sheet Vinyl Flooring
Homogeneous sheet vinyl flooring is a vinyl floor covering that is engineered to have uniform structure and composition throughout the sheet. Its composition usually consists of vinyl plastic resins, pigments, stabilizers, fillers, and plasticizers. Homogeneous sheet vinyl flooring is the top of the line in durability. It is resistant to wear, soiling, and discoloration. Homogeneous sheet vinyl flooring is also known as un-backed sheet vinyl flooring.
Heterogeneous Sheet Vinyl Flooring
Heterogeneous sheet vinyl flooring is a vinyl floor covering that is designed to look like a natural surface, but engineered to deliver durability, performance, and resilience beyond what natural products can offer. It consists of a wear layer and other layers, which differ in composition or design. Heterogeneous resilient commercial sheet vinyl flooring is available in designs inspired by rustic slate, marble, wood flooring planks, unpolished granite, and many other options. Heterogeneous resilient commercial sheet vinyl flooring is strong, easy to maintain, naturally stain-resistant, and aesthetically pleasing. It is also known as layered composite or backed sheet vinyl flooring.
Inlaid Sheet Vinyl Flooring
Inlaid sheet vinyl flooring is a class of sheet vinyl in which decorative patterns or designs are formed by setting color areas directly into the surface of the vinyl. The design may or may not extend through the backing of the vinyl. Inlaid sheet vinyl flooring is soft and textural. Designs are influenced by everything from nature to fashion for a high-style resilient flooring solution. There are many inlaid sheet vinyl flooring options rated for commercial traffic and this floor covering can often be found in retail shops, healthcare facilities, educational institutions, etc.
Sheet vinyl is manufactured in lengths of 6' – 12'. Therefore, if you will be covering a space that is wider than the width of the sheet, the two pieces will need to be seamed together using a process known as heat welding. Heat welding is the process of thermo-fusing or heat sealing two or more separate pieces of resilient flooring together at a joint or seam. Heat welding is primarily used in commercial sheet vinyl flooring applications. When properly executed heat welding results in a floor free of voids and joints where pathogens and harmful bacteria can collect and grow. Heat welded or "seamless" floors are frequently used in areas that require an aseptic or clean environment such as clean room manufacturing facilities and surgical rooms.
At My Way Carpet Floors and More, we will work with you to choose the colors and textures that compliment your home, reflect your personality, and truly fit your lifestyle. Satisfaction guaranteed! Call 1-877-466-9929 to schedule your "Mobile Store to Your Front Door" appointment today.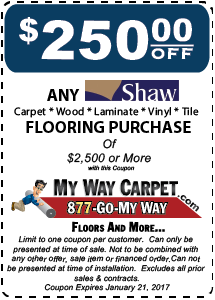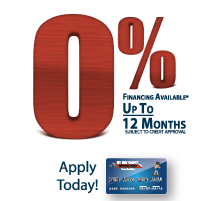 • We Come to You!
• Hassle FREE Shopping
• Professionals You Can Trust
• Call 24/7 (Toll FREE)
CALL TODAY!
1-877-Go- My Way
1-877-466-9929
Your way is "My Way"®
LIFETIME Installation
Warranty
See our warranty on residential and commercial installations
More Flooring Products & Services:

Please Refer Us To Your Friends And Family!!
Anso
Armstrong
Bruce
Beaulieu
Congoleum
Coronet
Formica
FERMA
Hagamen
Kraus
Mannington
Miliken
Mirage
Mohawk
Quick Step
Repellawood
Shaw
Smart Strand
StainMaster
Wear Dated
Zickgraf
All of New Jersey:
Bergen County,
Burlington County,
Essex County,
Hudson County,
Hunterdon County,
Mercer County,
Middlesex County,
Monmouth County,
Morris County,
Ocean County,
Passaic County,
Salem County,
Somerset County,
Sussex County,
Union County,
Warren County
All of Staten Island
Richmond County
In Pennsylvania:
Easton Area
We need your help to choose the winning jingle!