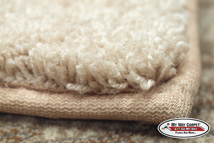 My Way Carpet Floors and More is New Jersey's premier carpet binding service provider. Carpet binding is the process whereby a material is applied to the edge of a carpet to make a rug. Rugs can be bound through the process of binding, serging, fringing, or fabric borders.
My Way Carpet Floors and More specializes in residential and commercial carpet binding in New Jersey and the surrounding
region. Carpet binding is usually cotton or nylon, however it also comes in many other materials—even leather. Non-synthetic binding is often used to bind bamboo, grass, and wool rugs, but it is also used with carpet made from other materials.
Give us a call at 877-466-9929 to learn more about My Way Binding's Carpet Binding Service in New Jersey.