Commercial Vinyl Flooring
Looking for commercial Vinyl?

Vinyl flooring products combine the warm look and versatility with the affordability and they are durable as well. If you are looking for a flooring option that adds beauty to your property, we are here to help you with high quality commercial vinyl flooring services. We, at My Way Carpet, are one of the leading flooring and carpet solution providers in South Plainfield, as well as in New Jersey, Florida, Pennsylvania, Connecticut, New York, NY and Georgia.
Combining the best of technology, durability and designs, our commercial vinyl flooring ensures the real look and performance that you require. We offer a wide range of vinyl flooring options including
Vinyl Sheet Flooring

,

Vinyl Composition Tile

(VCT) flooring and

Luxury Vinyl Tile

(LVT) flooring. We carry most trusted brands in vinyl flooring for our commercial customers and we can work with any size of commercial flooring project. We have worked with a wide variety of commercial clients including industrial, education, healthcare, hotels, construction, fitness centers, retail, local authorities and corporate clients across the Metropolitan area area.
As a leading flooring service provider, we specialize in supply as well as installation of top quality vinyl flooring. We understand that each of our clients is different and you have different flooring needs, so we offer a wide selection of different quality vinyl flooring options to choose from. If you are looking for an elegant choice of flooring for your property, we have the top quality luxury vinyl flooring in tile and plank options. Our LVT tile size flooring features the dramatic, original stone visuals, to enhance the look of your office or business. We have a vibrant collection of LVT tile floors which provides the natural look of real ceramic, quarts, marble or slate. If you like to create a real hardwood look for your interior, our LVT plank flooring with excellent colors and textures is best suited for your decoration or practical needs. With realistic natural wood designs, our luxury vinyl planks are easy to install and ensure complete durability.
Our Vinyl Composite Tile flooring (VCT) options are a good choice for commercial needs such as hospitals, grocery stores, schools and sporting venues. Available in variety of colors, patterns and designs, our VCT flooring can create custom, unique effects in an affordable way. We also offer durable commercial sheet vinyl flooring in traditional and trendy designs and colors. No matter whatever the type of vinyl flooring you choose, sheet, tile or planks, all our flooring products are technologically advanced to work well in high traffic, high maintenance settings. Along with aesthetic look, our vinyl flooring products feature durable protective layer which resist against water, scratches, color fading, denting and staining.
At My Way Carpet, we are aware of the success behind a quality commercial flooring project and we are committed to meet your specific needs. Combining features such as quality products, competitive pricing, flexible services, on-time installations and regular contact, we can effectively manage your commercial vinyl flooring project. Our flooring specialist is always happy to assist you on providing quality commercial floor solutions that fits your budget.
Contact our service staff with your commercial vinyl flooring needs and schedule your Mobile store to your front door appointment today
CALL TODAY!

877-Go-My Way (877-466-9929)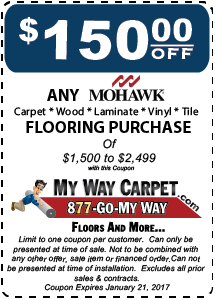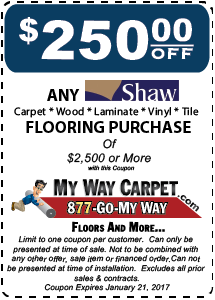 More Flooring Products & Services:



Please Refer Us To Your Friends And Family!!