Commercial Luxury Vinyl Tile (LVT)
Looking for commercial Vinyl?

Commercial Luxury Vinyl Tile Flooring
Luxury Vinyl Tile (LVT) flooring captures the beauty of natural materials and combines it with the durability of vinyl in a wide variety of tile and plank sizes. LVT is very different from other vinyl products on the market in how it is manufactured and the overall aesthetic and application.
Over the last five years, there have been many wonderful developments in the Commercial Luxury Vinyl Tile market. No longer is LVT a strictly "industrial" flooring solution. Commercial LVT delivers a realistic facsimile of wood, stone, slate, woven textiles, etc.
With Luxury Vinyl Tile, you can get the look, character, and grain pattern of real hardwood. You can also get a state-of-the-art textured granite or stone look in luxury vinyl tile flooring. Luxury Vinyl Tile is able to replicate the look of real hardwood and stone flooring products by using highly advanced photographic technology.
LVT features four layers fused together: a resilient vinyl backing, a vinyl color layer, a photographic film layer, and a urethane or aluminum oxide top layer. This top layer, also known as the wear-layer or mil layer, is the most important factor to consider when it comes to product durability. Quality LVT products will feature a protective top layer of up to 40 mil. Commercial Luxury Vinyl Tile applications should seek products of 20 mil or higher.
Commercial LVT is a high-performance solution for high-traffic commercial flooring installations. LVT is extremely versatile, lending unparalleled flexibility and countless design options to your flooring project. LVT is highly scratch resistant and long-lasting. These floors are inherently water resistant and easy to maintain. Commercial LVT flooring can help your company earn LEED points and many Commercial LVT products meet green building standards. Commercial LVT also meets the requirements of commercial flammability codes, slip resistant requirements, and many other safety codes.
In addition, commercial Luxury Vinyl Tile floors are an economically efficient flooring solution offering the richness and feel of natural materials at a significantly reduced price point.
At My Way Carpet Floors and More, we will work with you to choose the colors and textures that compliment your home, reflect your personality, and truly fit your lifestyle. Satisfaction guaranteed! Call 1-877-466-9929 to schedule your "Mobile Store to Your Front Door" appointment today.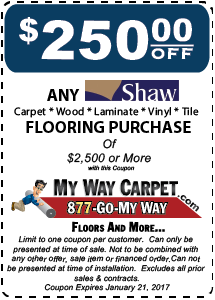 LIFETIME Installation
Warranty
See our warranty on residential and commercial installations
• We Come to You!
• Hassle FREE Shopping
• Professionals You Can Trust
• Call 24/7 (Toll FREE)
CALL TODAY!
1-877-Go- My Way
1-877-466-9929
Your way is "My Way"®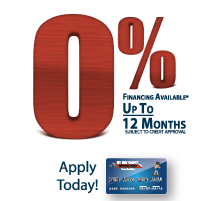 More Flooring Products & Services:



Please Refer Us To Your Friends And Family!!