Rubber Sheet Flooring
Rubber sheet flooring is available in many sizes, shapes, colors, and textures. Providing the perfect balance of functionality, aesthetics, and value, rubber sheet flooring is most commonly used in commercial applications.
Rubber sheet flooring is a durable, long-lasting alternative to hardwood and ceramic tile floors. There are different durability ratings for rubber sheet flooring. Depending on the quality and durability rating of the rubber sheet flooring product, most rubber sheet floors are resistant to punctures, scuffs, dents, and other marks of high-traffic areas. In addition, rubber sheet flooring is naturally slip-resistant and shock absorbent, making it a safe flooring solution.
Rubber sheet flooring can be found in weight rooms, gymnasiums, gymnastics facilities, personal exercise rooms, hallways, corridors, and many other places. It is an ideal flooring product for education and healthcare settings, as rubber sheet floor rolls can be flash-covered and they are chemical resistant.
Rubber sheet flooring can be cut to custom sizes and shapes. And, many rubber sheet flooring products on the market meet ASTM F 1859 Standard Specification for Rubber Sheet Flooring.
The commercial flooring experts at My Way Carpet Floors and More can assist you in choosing the perfect rubber sheet flooring product for your application. Call 1-877-466-9929 to get started!
Rubber Tile Flooring
Rubber tile flooring has many inherent advantages making it a very popular flooring choice for commercial flooring and residential applications. As one of the most durable flooring materials on the market, rubber tile flooring is an excellent option for high traffic environments.
Despite this high level of durability, rubber tile flooring is a very soft surface and it can help relieve the stress and fatigue of standing for long periods of time, which is why rubber tile flooring can often be found in retail locations. It is also a popular choice for playrooms and child care centers due to the soft, yielding nature of the material.
Rubber tile flooring is available in a wide variety of colors, patterns and textures. It can be manufactured with studs, raised dimples, and other textures that can help to add traction to the rubber tile floor making it a slip resistant, safe flooring choice.
Rubber tile flooring is a low-maintenance, naturally stain and water resistant flooring option. It is a nonporous surface, virtually eliminating the risk of water damage. The high level of water resistance of rubber tile flooring makes it an ideal flooring solution for wet environments such as bathrooms, laundry rooms, and kitchens.
In addition to being water resistant, rubber tile flooring is fire/burn resistant. It can withstand heat and cigarette burns. Rubber tile flooring is non-toxic. Therefore, it will not release any harmful fumes into the air in the event of a fire.
Another attractive benefit of rubber tile flooring is that rubber tile flooring can act as a sound barrier between floors in a building. Quality rubber tile flooring can actually reduce noise by up to 18 decibels.
For more information on rubber tile flooring solutions for commercial and residential applications, call the rubber tile flooring experts at My Way Carpet Floors and More.
Rubber Stair Treads
Rubber stair treads are a key safety feature in any residential or commercial environment. Rubber stair treads provide an outstanding value, combining high performance at a reasonable price point. Available in many different traction-enhancing surface textures, as well as colors designed to coordinate with other flooring products, rubber stair treads can improve the appearance of stairs, easily integrate into a variety of interior design elements, and conceal older, worn steps.
Rubber stair treads are anti-slip, comfortable, and quiet under foot. They are durable and inherently resistant to scratches, scuffs, gouges, and burns. Rubber stair treads are available in ADA compliant designs and designs that meet ADA recommendations for the visually impaired.
Rubber stair treads bring together style, dependability, safety, and efficiency. To learn more, contact the stair tread experts at My Way Floors and More. And, while you are thinking about rubber stair treads, consider the value of covering your landing areas with slip-resistant rubber tiles to provide an additional measure of protection from slipping accidents and the accumulation of debris.
Rubber Stair Nosing
Stair treads are an excellent stair safety feature. Rubber stair nosing takes safety even further and extends the life of your stair floor for years to come by adding a layer of protection against wear and tear. Staircases are the area of a building structure that tend to receive the most foot traffic and wear and tear. Scuffs and other wear marks on stairs are quickly noticeable and can have a significant impact on the visual landscape of your building.
Rubber stair nosing, therefore, is a considerably worthwhile investment in both residential and commercial applications. Rubber stair nosing adds a professional finish to tile, stone, or wood stair surfaces. Rubber stair nosing is functional and durable and is available in many attractive designs, colors, textures, and styles. Rubber stair nosing also offers a variety of optional features including embedded anti-slip grit strips or high-visibility contrasting color stripes, depending on your application needs.
For more information on rubber stair nosing, please contact the experts at My Way Carpet Floors and More.
Rubber Wall Base
Rubber wall base is the premium choice in wall base products. Rubber wall base offers many advantages over other materials including ease of installation, more LEED certification advantages than competitive products, and it does not shrink over time like other materials.
Rubber wall base is a finishing product that has a big impact in creating harmony and balance between the floors and walls in both commercial and residential environments. By choosing rubber wall base, you are selecting a product that offers exceptional durability, flexibility, and longevity.
Rubber wall base is designed to resist cracks, scuffs, fading, shrinkage, and other damage, increasing the life of your flooring design. Quality rubber wall base also promotes healthy indoor air quality which contributes to LEED credits.
Rubber wall base is stain resistant, fade resistant, flexible, chemical resistant, and able to withstand nicks, scratches, and gouges. For more information on rubber wall base products, call the experts at My Way Floors and More.
We will help you!
At My Way Carpet Floors and More, we will work with you to choose the colors and textures that compliment your home, reflect your personality, and truly fit your lifestyle. Satisfaction guaranteed! Call 1-877-466-9929 to schedule your "Mobile Store to Your Front Door" appointment today.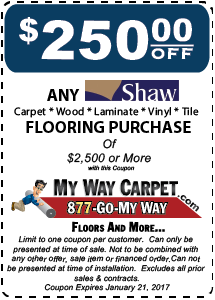 LIFETIME Installation
Warranty
See our warranty on residential and commercial installations
• We Come to You!
• Hassle FREE Shopping
• Professionals You Can Trust
• Call 24/7 (Toll FREE)
CALL TODAY!
1-877-Go- My Way
1-877-466-9929
Your way is "My Way"®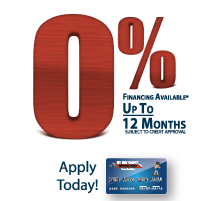 Need VCT?
Need LVT? (Luxury Vinyl Tile)
Need SHEET VINYL?
Commercial & Residential
Need Linoleum Flooring?
Made for High Traffic Areas.
Great for commercial areas!
More Flooring Products & Services:
Our Clients and As Seen In:



Please Refer Us To Your Friends And Family!!