Vinyl Composition Tile (VCT)
Looking for commercial Vinyl?

Vinyl Composition Tile (VCT) flooring comes in tiles of 12" x 12" and it could last up to 30+ years at a much more economical price point. Today's Vinyl Composition Tile (VCT) flooring is streamlined, stylish, and low-maintenance. It is specifically designed to withstand all kinds of wear and tear while retaining its original beauty. Vinyl Composition Tile (VCT) flooring are resistant to dents, scuffs, scratches, and staining. Vinyl tiles are a very durable flooring option.
Vinyl tile flooring installation options include either glue-down or self-adhesive backing. Glue-down tiles are set into a mastic bed. Self-adhesive tiles are a peel and stick product. Vinyl Composition Tile (VCT) flooring can be installed over many existing floor surfaces and they are easy to clean. Day to day care includes sweeping and a damp mop from time to time.
At My Way Carpet Floors and More, we will work with you to choose the colors and textures that compliment your home, reflect your personality, and truly fit your lifestyle. Satisfaction guaranteed! Call 1-877-466-9929 to schedule your "Mobile Store to Your Front Door" appointment today.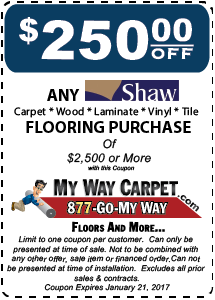 LIFETIME Installation
Warranty
See our warranty on residential and commercial installations
• We Come to You!
• Hassle FREE Shopping
• Professionals You Can Trust
• Call 24/7 (Toll FREE)
CALL TODAY!
1-877-Go- My Way
1-877-466-9929
Your way is "My Way"®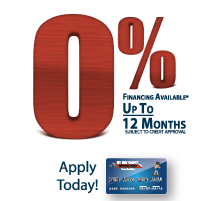 More Flooring Products & Services:

Please Refer Us To Your Friends And Family!!